Streamline Your Financial and Business Reporting for Microsoft Dynamics Directly Inside Excel using Jet Reports
See for yourself why over 500K+ users are using Jet Reports for financial and business reporting
Ahmad Hammad, MBA
BI & ERP Specialist at SYH Retail - IKEA
"Implemented Jet Report for IKEA with Global Data 365 who were professional, adhered to timelines, and provided advanced reporting tools. I highly recommend them."
Rukku Shantha
IT Manager & Reporting Specialist, MPH Global
"Collaborated with Global Data 365 on Jet Reports license and training. Very resourceful and quick to respond to support requests. Highly recommend their services."
YADİGAR KÖKSAL
Finance and Accounting Manager, ATC
"Jet Reports exceeded our expectations with its many features. The training allowed us to create useful reports, and we highly recommend it for monitoring companies in the future."
LAWRENCE KILINGA
Business systems analyst, Amref
"Partnered with Global Data 365 for Jet Reports implementation. Their expertise and insights have been invaluable in automating management reporting. Highly recommend their services."
Tonderai Mazingaizo
Director of Finance & Operations, Afghanaid
"Incisive insights on Jet Reports and their capabilities in resolving financial reporting requirements"
Joanne Chong
Business Analyst at TG Group of companies
"Global Data 365 had provided a in depth training to me that enabled me to start multiple report design and help the user to extract their data from Navision for reporting. They are helpful and responsive even after the training."
Antonio Vasconcelos
Microsoft Dynamics Functional Consultant, Port Logistics
"Global Data 365 implemented Jet Reports at my workplace. With their assistance, we were able to automate most of our reporting. Their support was excellent"
Iqbal M.
IT Project Manager at SMT Africa
"Global Data 365's expertise with Jet Reports was instrumental in automating our reporting at SMT Africa. Their dedicated support and insightful training were exceptional. Highly recommend!"
Cesco Righetti
Chief Financial Officer UK at The Arts Club
"Collaborating with Global Data 365 for over two years, I've found them to be approachable and highly adaptable, even when dealing with unfamiliar territories. Our reports now run with exceptional accuracy and efficiency."
Ali Zahran
Max & Home Centre Brand Manager at Fashmore company
"We took Jet Reports training from Global Data 365 which proved to be very beneficial for our team. They were very supportive and patient throughout the training and answered all our questions."
Jet Reports is an advanced financial and business reporting solution inside of Excel and on the web. Designed specifically to work with Microsoft Dynamics ERPs, it is an easy-to-use reporting platform where everyone can build reports and access your business data instantly.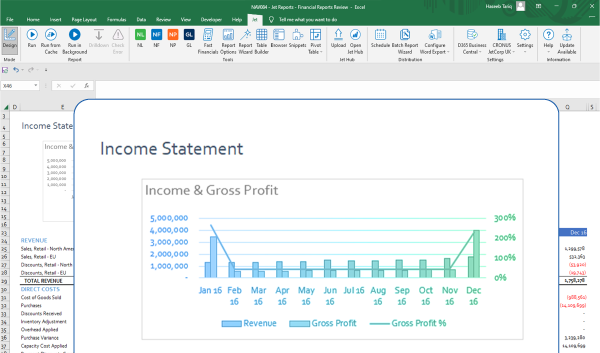 Shrinks Your Reporting Cycles
Jet Reports streamlines reporting, enhancing business efficiency with automated data extraction and user-friendly templates. Jet reports boosts the performance , and empowers decision-making with powerful reporting, while saving time and reducing errors.
Real-Time Reporting with Excel
Jet Reports Excel add-in simplifies real-time reporting, seamlessly integrating ERP systems data into Excel for error-free, easy-to-read reports, boosting decision-making efficiency. It gives user-friendly visualizations, providing valuable business insights and boost decision-making process.
Jet Reports empowers non-technical users for seamless data manipulation, reducing IT load and fostering self-sufficiency. This leads to informed decisions, boosting productivity and efficiency with real-time insights.
Access transaction-level data for real-time insights, uncover trends, and enhance decision-making efficiency. Analyze individual transactions effortlessly, empowering businesses to make informed choices and improve operations.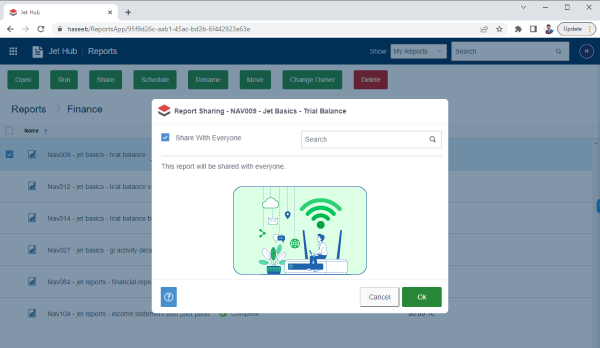 Jet Hub, a web-based platform, offers real-time report access from any device with internet connectivity. It automates report running and distribution, ensuring timely data for informed decisions, streamlining the reporting process for anytime, anywhere critical data access.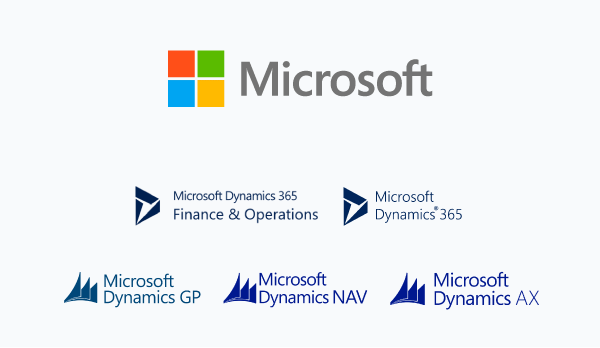 Microsoft Dynamics 365 Business Central
Microsoft Dynamics 365 Finance & Operations
Microsoft Dynamics NAV
Microsoft Dynamics GP
Microsoft Dynamics AX
We are proud to be an authorized service center for insightsoftware's Jet suite of products. We are fully equipped to provide seamless end-to-end services for Jet Reports and Jet Analytics.
Boost Your Analytics Power:

Save 20% on Jet Analytics License!
We are the authorized distributor of Jet Reports and Jet Analytics. Our Jet experts will evaluate your pain points and guide you towards the perfect fit for your business.
Seamless Reporting Starts Here:

Enjoy Free Jet Reports Installation!
The Jet Experts You Can Rely On!
We use best practices to do standard implementation, as well as, help with customization of Jet Analytics Cubes and Data Warehouse.
Unlock Insights for Free:

Your First Two Reports on the House!
Do you find it problematic to design reports on Jet Reports? Our consultants are broadly experienced and can design customized reports from the given data and ensure to provide accurate outcome.
Supercharge Your Skills:

Enjoy a 25% Discount on All Our Training Programs!
Do you want yourself to master in Jet products? Whether onsite or online, our knowledgeable trainers will help you to become a Jet expert in no time. We offer basic to advanced training sessions.
Experience the Next Level:

Upgrade to the Latest Versions for Free!
Are you still using the old versions of Jet Reports and Jet Analytics? Our experts can help you with smooth upgrades to the latest versions and help you start using all the new features that Jet is offering.
Accelerate Your Success:

Save 25% on All Our Premium Support Services!
From solving functional issues to technical problems, you can completely rely on us. Your personal Jet support assistant would be ever ready for you to assist you with any support you need.
Frequently Asked
Questions
Book a personalized demo & claim your 30 days free trial now!